Intro
This post is seeks to review 2 Samsung devices namely the new Gear 360 (2017) and Gear VR headset. You will notice that I have previously reviewed the earlier Gear 360 version on this blog, so this post will primarily talk about the new model in a comparative manner. If one want to see the specs and capabilities of the old model, please see my previous review on this
link
New Gear 360
The new Gear 360 camera is an awesome and well made product. It keeps the best parts of the previous model, vis-a-vi, stylish aesthetics, a sturdy construction and indeed being easy on the eye. with its beautiful colours, especially the white version. This new camera is about 40% smaller than the previous model, with a few modifications to the position of the small display, which is now on the integrated handle. No more separate tiny tripod handle. Setting it up is a breeze, quite straight-forward even without reading the instructions lol! (even though I always read first). No differences to the previous model.
New Model Specifications
Physical
Dimension (HxWxD): 100.6 x 46.3 x 45.1 mm
Weight (g): 130
Battery
Battery Capacity: 1160 mAh
Removable: No
Run time
Video Recording Time (Dual 2560x1280@30fps): Up to 130 mins
Video Recording Time (Single 1920x1080@30fps): Up to 180 mins
Audio and Video
Video Recording Format: MP4
Video Recording Compression: H.265(HEVC)
Audio Recording Compression: AAC
Number of MICs: 2
Camera
Image Sensor: CMOS, 8.4 MP x2
Default Output Pixel (Count Equivalent to): 15.0 MP
Video Recording Resolution: 360° (4096 x 2048)@24fps
Memory
External Memory Support: MicroSD (Up to 256GB)
Connectivity
USB Interface: USB Type-C
USB Version: USB 2.0
Wi-Fi: 802.11 a/b/g/n/ac 2.4+5GHz
Wi-Fi Direct: Yes
Bluetooth Version: Bluetooth v4.1
Compatible Phone Models
Galaxy S8, S8+, S7, S7 edge,
Note5, S6 edge+, S6, S6 edge,
A5 (2017), A7 (2017)
*Android 5.0 or later
* iPhone 7, 7 Plus, 6s, 6s Plus, SE with iOS 10.0 or later
Of particular importance, you will realise that this new model is compatible with almost all modern phones. For me, I wanted compatibility with the iPhone and they did not disappoint. For most of the operations that I wanted , like viewing live footage in different formats - panoramic, fish-eye or 360, the iPhone app is capable. Also capturing photos and videos directly from the phone, the app handles that well, as well as automatic stitching of files, to redden them for sharing. This is a major plus for Samsung, which allows its devices to be adopted by a wide base of users.
Operation is quite similar to the previous model, so I will not dwell on this. I got the sense that Samsung was trying to address the short comings of the previous model, with this one, so it is probably important that I pay attention to the differences. I have my original blog at (http://pro-blog.chitambira.com/2017/01/the-future-of-photography-is-here.html) and there, one can find information on the software, Action Director, that one can use to deal with the files. Just like with all 2-lens 360 cameras, one needs to take consideration of light sources when shooting. It is best practice to make sure that both lenses receive roughly same amount of light, so its best to point the nose of the camera to the light source than pointing one lens. However, having said than, I realised that the new camera deals with lighting much better than the previous one, so the light source issues are not prevalent. Stitched-up photos look more seamless this time.
Video quality has been greatly improved as expected because of the specs changes. To my layman eye, the videos are quite vivid now and also somewhat better stabilisation seems to be employed. On the hardware itself, the camera is IP53 certified, so is still dust and splash proof. However, there is no more the rubber-sealed door to the ports, I am wary of even letting splashes on my camera. The SD card and Type C USB ports are external and the battery is no longer removable (make what you want of this)
| | |
| --- | --- |
| | |
| | |
Generally this new camera offer better video quality, is smaller and lighter, and better battery life. The smaller size means that the distance/gap between the two lenses is reduced, leading to better stitched photos, no more blind zones. Performance is also great, quick response times for quick shots not using timers. The other thing I realised is the better sound quality on recorded videos. Previously, the sound in my beach videos was pretty bad.
Photos captured using the new camera
— Benny Chitambira (@kupafulous) November 5, 2017
Comparisons of images created using the older and newer models
Gear VR Headset
Samsung Gear VR is a well thought-out product that delivers true VR experience thru a simple affordable platform.
I have played around with my Gear VR well enough to know the true difference and benefits this gadget offers, when compared to other headsets.
First, we have to talk about the build quality of the device itself. The key differentiation here is obviously the fact that this device comes with modular connector mechanism which allows you to interchange the connections from USB, USB type C or possibly other standards, by swapping the connection module.
Also the phone slot is adjustable to accommodate phones of different sizes.
The construction is plastic, obviously to keep weight and price low, but it comes with a good portion of cushion to deliver unparalleled comfort.
The lenses have a focus adjusting wheel which is much welcome especially for us who wear glasses. Now we do not need to wear the headset over our spectacles.
Another stroke of genius is the inclusion of on-board controls. You can control playback, menus etc even without the separate controller. this is especially useful in cases where one loses, misplaces or simply do not have the Bluetooth controller.
The controller itself is a well made product, fitting snugly in the hand, well, placed buttons with a pistol trigger like button which works as the OK/Select button. The fact that you can also recenter it or modify its default aiming direction means it can be used by people with different handicaps or natural hand orientation.
It is possible to charge you phone while its still within the Gear VR. This is thanks to the USB Type C connection on the headset itself. If you connect this while playing, the headset will use the power from the charger directly, otherwise it will charge the phone inside.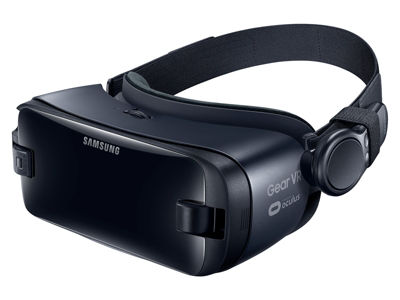 Gear VR headset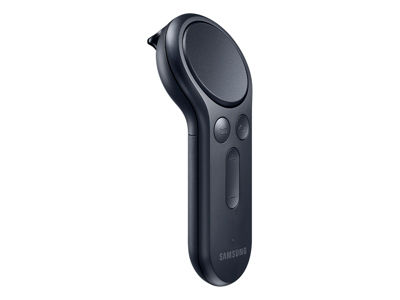 Bluetooth controller
Now we have to talk about the operation itself. Its comforting to know that one does not need to be a tech guru to operate this headset. Everything is straightforward. The key thing is that you only have to slot your phone in, and the VR software/platform spring into life. Just slot you Samsung phone into the glasses, and make sure the connector is firmly connected to the phone, and the Oculus system will automatically start (I talk more about the Oculs later)
Then we move on to the software platform itself. The Gear VR provides hardware assisted rendering and features using the Oculus technology and platform. The Gear VR is only compatible with Galaxy S6/S6 Edge or newer devices, so if your phone is not compatible as above, then you are out of luck.
However, there is a good reason why the compatibility is that much limited. For starters, these new Samsung phone have got good screen resolutions. For example, iPhone 6S has 1334 x 750 = 1,000,500 pixels, while Samsung Galaxy S6/Note4/5 etc has 2560 x 1440 = 3,686,400 pixels, thus almost 4x the resolution of iPhone, so the iPhone 6 or 6S would be terrible for VR.
Secondly, there is no VR operating system for iOS. The Samsung Gear VR includes an Oculus launch app, along with stores from both Samsung and Oculus. ... The iOS apps for iPhone does offer a rudimentary interface to some Google Cardboard apps, but not to all VR experiences available on other platforms. In simple words, the iPhone as it is at the moment, was never built with VR in mind.
Whilst one may be able to play Zombie shooter VR games on iPhone, the extent of movement and rendering is pre-defined within the game and the headset can not independently explore all the VR FOV (bound specified in the game or app) where as the Gear VR platform allows you to explore all possible dimensions. In terms of the experience, this can be summarised as a factual statement that one can be fooled to think they are in a different environment/place./world when using the Gear VR where as that is not possible with most budget headsets with which the iPhone may be compatible.
Watching and enjoying content created using the Gear360 camera, on your Gear VR means Samsung provides a full VR ecosystem which is easily accessible to the masses. The Gear VR headset obviously does not break your bank and the two Gear 360 cameras can be bought for a song on
Amazon
The key thing as far as VR is concerned is content. What use does it servers when you can have a perfect VR headset, but without any content to enjoy it with? Well if you are reading this and wondering the same, you are in luck. Samsung's teaming up with Oculus provides a platform that is pregnant with content and possibilities.
Oculus home screen
The most compeling downlods that you can use as proof of the unmatched imerseive capability of the Gear VR are the following appls (available within Oculus platform)
(i) Try the VR effects especially Magga's dances on
Amaze 3D Videos
(ii)
Amazing Cinema
offers an experience equivalent to watching Cinema on the night sky (with the sky being the screen, that's pretty awesome!!
(iii) Oculus Video offers videos and movies you can watch in realistic cinema setting if you want.
(iv) There are loads of other channels (apps) that can offer you a VR environment for your usual entertainment sources. These include National Geo, CNN, Discovery etc.
Video of Oculus cinema
There is also the meeting rooms where you can meet with your Facebook friends who are on the Oculus platform as well. Meeting in the virtual reality is just fun on its own, and you can strike conversations using the phone's microphones which make the whole experience unusual and fun.
A large selection of games are multiplayer, so you can play with friends over the internet. The Oculus platform makes use of Facebook for social networking, so if you have Facebook friends with an Oculus compatible VR headset, then fun-times will be unending...
Zombie shooting games are fun with the Gear VR. As already described above, the Oculus platform/operating system, allows an immersive environment which is adequate to fool your senses to feel and believe one is actually transported to a different place. This is possible because of the impeccable graphics capability, image resolution of the phone, and perfect head tracking and motion rendering capabilities of the sensors of the Gear VR headset. This combination is what most experts call the premium VR experience.
Overall, the Gear 360 and Gear VR are a must have gadgets for modern (or rather futuristic) entertainment. These are not half backed gimmicky devices, but real challengers which I think are worth your coins.